Self-Esteem Journal Worksheet
Worksheet published on August 15th, 2017
Worksheet updated on January 4th, 2021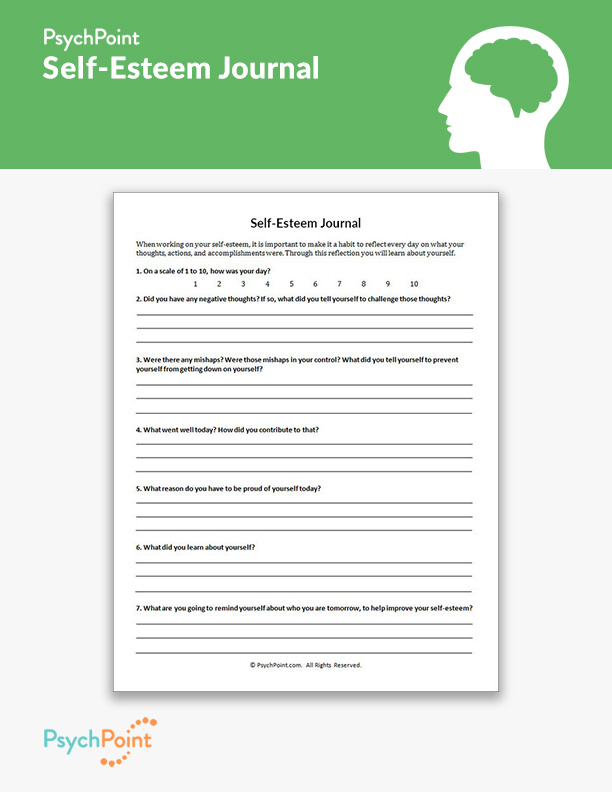 Helping a patient build self-esteem can be a challenging process. Many patients suffer from poor self-esteem, and that poor self-esteem contributes to their presenting concerns. It also will hold patients back from reaching their full therapeutic potential and feeling confident in themselves to make the changes in their lives that will help them improve their mental health.
Building self-esteem is an important part of the therapeutic process, but it can sometimes be difficult for a patient to acknowledge and internalize their positive qualities to improve their self-image. This is why it is helpful to have a visual aid that is concrete and be used as a journal to refer to when feeling down or low.
About This Worksheet
This worksheet serves as a daily journal to help your patient track his or her self-esteem through the day. The self-esteem journal asks a variety of questions that reflect the patient's daily thoughts and events, and how the thoughts and events to the patient's self-esteem that day.
It also provides a means to teach the patient how to draw from daily experiences to find accomplishments and things to be proud of, which will help the patient learn how to internalize positive qualities, abilities and accomplishments. It also helps the patient make it a habit to expect positivity and self-confidence for the following day.
Instructions
This worksheet is intended to be used as homework between weekly meetings. As the patient goes through his or her week, he or she is expected to sit down each evening and complete the questions asked as reflection of his or her competencies that are used throughout the day. The patient is asked first to rate the day on a scale of 1 to 10.
Then the patient is asked about the negative thoughts he or she can recall, and how they reflected any mishaps or tendencies for getting down on himself or herself. The patient is also asked about things that went well and things that he or she is proud of, and what can be learned from the things that went well.
Finally, the patient is asked to recall one thing to be reminded of the following day to promote positive self-talk and increase confidence.
More Mood Swing Worksheets