Positive Journal Worksheet
Worksheet published on January 15th, 2019
Worksheet updated on June 21st, 2019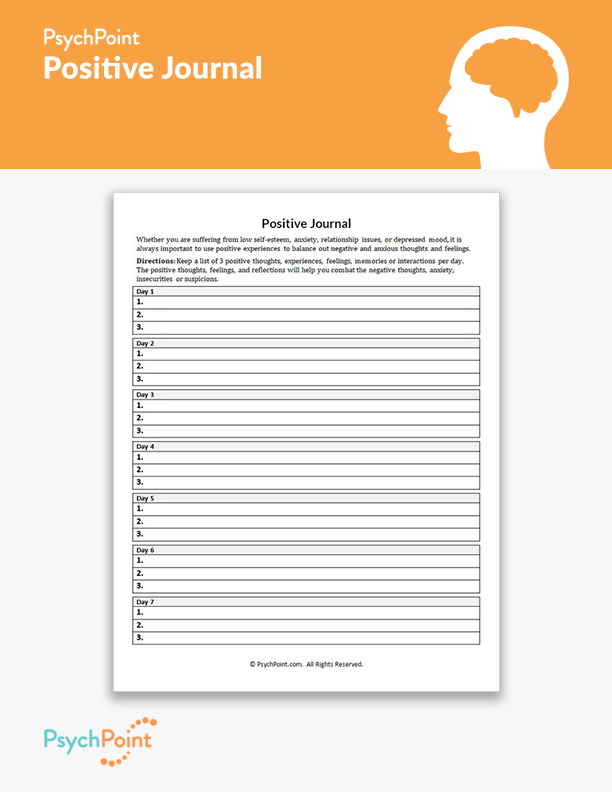 Many people who suffer from mental illness struggle to see their daily lives from a healthy perspective. It can be a challenge for most people in therapy to remove the lens of negativity that causes them to feel anxious, depressed or angry.
When the balance between positive experiences and negative experiences is weighed toward the negative, it can be hard for a client to appreciate the positive moments in their lives.
About This Worksheet
This is the Positive Journal worksheet. The goal for this worksheet is to challenge a client to be more aware of the positive experiences for each day. With this challenge, a client is encouraged to identify positive parts of their day, in order to create balance between positive and negative impressions each day.
This will create a more positive attitude and healthier perspective on life, which will reduce symptoms of depressed mood, anxiety and anger.
Instructions
Instruct the client to record 3 positive experiences a day for 7 days.
Each day, the client is to reflect on their day and identify at least 3 positive things that happened. The positive experience can be complex or simple, as long as it is positive. The positive reflection will train the brain to continue to acknowledge the positive. This will prevent focus from being solely negative, and will reduce negative and anxious thoughts.
This worksheet works best when practiced for at least 2 consecutive weeks.
More Grief Worksheets