Cognitive Distortions: Blaming Worksheet
Worksheet published on July 2nd, 2019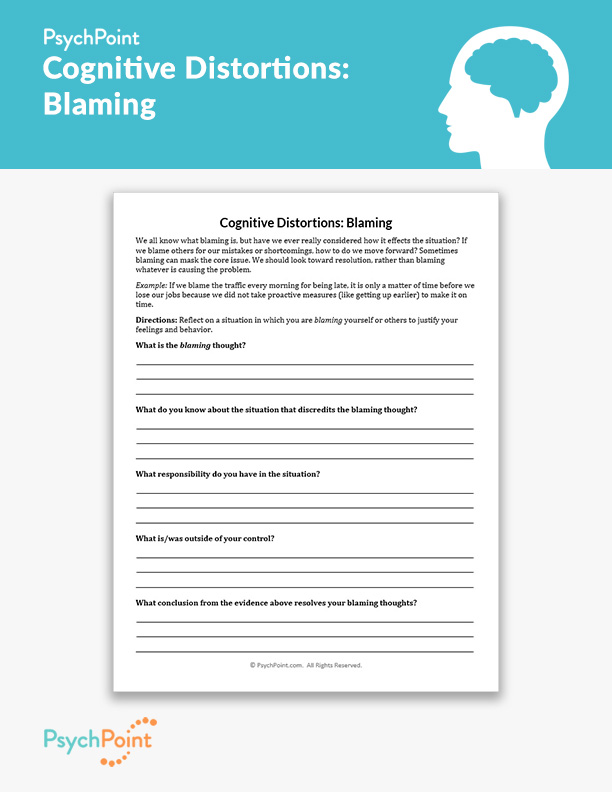 A huge part of using cognitive behavioral therapy with clients is teaching them about cognitive distortions and how they affect their thoughts, feelings and reactions to upsetting situations. It is not uncommon for a client to turn to cognitive distortions like blaming to avoid taking realistic responsibility for challenges in their lives.
In order for a client to respond well to cognitive behavioral therapy, they must know when they are using 'blaming' to cope with obstacles in their lives. Blaming is a major cognitive distortion that will prevent a client from seeing the reality of a situation and the role they play in creating and resolving the situation.
With understanding how blaming affects thoughts and feelings, clients can learn how to direct their thoughts away from blame and fault, and toward resolution.
About This Worksheet
This is the Cognitive Distortions: Blaming worksheet. On this worksheet, the client is given an overview of what blaming is and how it affects their judgement. With the examples provided, this worksheet illustrates how blaming affects thoughts and feelings, and how that can cause an inaccurate interpretations of a difficult situation.
This worksheet is great for adolescents and adults who are seeking cognitive behavioral therapy to learn how to resolve the issues in their lives. It can be utilized in individual and group sessions.
Instructions
With your client, review the introduction of blaming and the examples provided. Reflect on the negative effects of blaming and explain why it is important to be cognizant of how blaming directly affects the client.
Instruct the client to complete the five reflection questions. When the client has completed the worksheet, review the summary with them in preparation for developing a plan to minimize blaming in the future.
More Substance Abuse Worksheets