Cognitive Distortions: Blaming Worksheet
Worksheet published on July 2nd, 2019
Worksheet updated on December 8th, 2021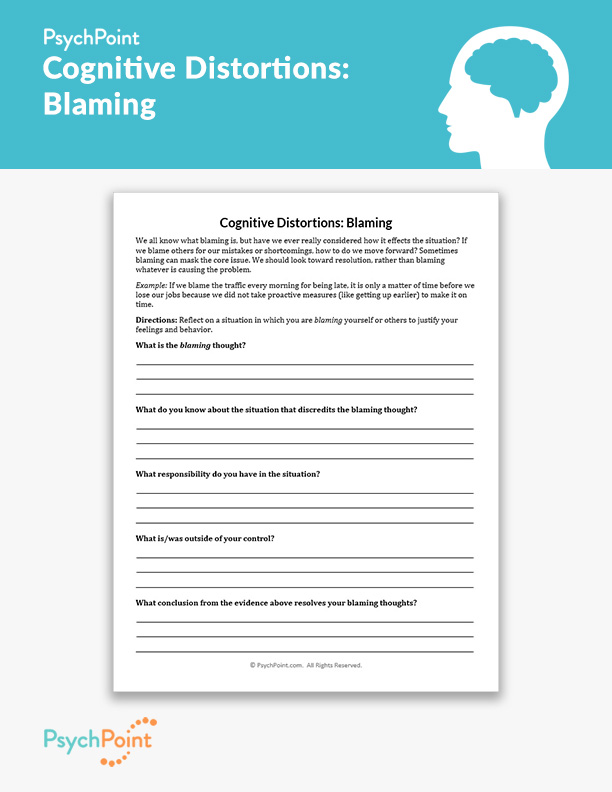 A huge part of using Cognitive Behavioral Therapy to help clients cope with their triggers is teaching them about cognitive distortions. Cognitive distortions are patterns of thinking errors, and they affect a person's thoughts, feelings, and reactions to upsetting situations.
It is not uncommon for a person in therapy to turn to cognitive distortions like blaming to avoid taking responsibility for challenges in their lives. Oftentimes, people will blame others, along with other cognitive distortions, without even realizing it. This can result in consequences like strained relationships.
If a person has a pattern of blaming other people or issues for their life challenges, they would benefit from learning about how this blaming behavior negatively impacts their mental health.
Blaming is a cognitive distortion that will prevent a person from accepting responsibility for the challenges they face in their lives. Without facing their blaming behaviors, they will not be able to understand how they play a part in causing the problem, or their responsibility in finding a solution.
With understanding how blaming affects thoughts and feelings, a person in therapy can learn how to redirect their thoughts away from blame and toward accountability and resolution.
About This Worksheet
This is the Cognitive Distortions: Blaming worksheet. On this worksheet, the client is given an overview of what blaming is and how it can affect a person's judgment. With the examples provided, this worksheet illustrates how blaming affects thoughts and feelings, and how that can cause an inaccurate interpretation of a difficult situation.
This worksheet is great for adolescents and adults who are seeking Cognitive Behavioral Therapy to learn how to resolve the issues in their lives. It can be utilized in individual and group sessions.
Instructions
With your client, review the explanation of what blaming is and use the example provided to illustrate how blaming affects a person's judgment. Emphasize the negative effects of blaming on a person's thoughts, feelings, and reactions, and explain why it is important to be aware of how blaming directly affects their overall wellbeing and mental health.
Instruct the client to complete the five reflection questions. When the client has completed the worksheet, review their responses to the questions. Use this worksheet as a guide for helping the client learn how to minimize the habit of blaming in the future.
More Therapy Worksheets