Values Clarification Worksheet
Worksheet published on September 8th, 2017
Worksheet updated on January 4th, 2021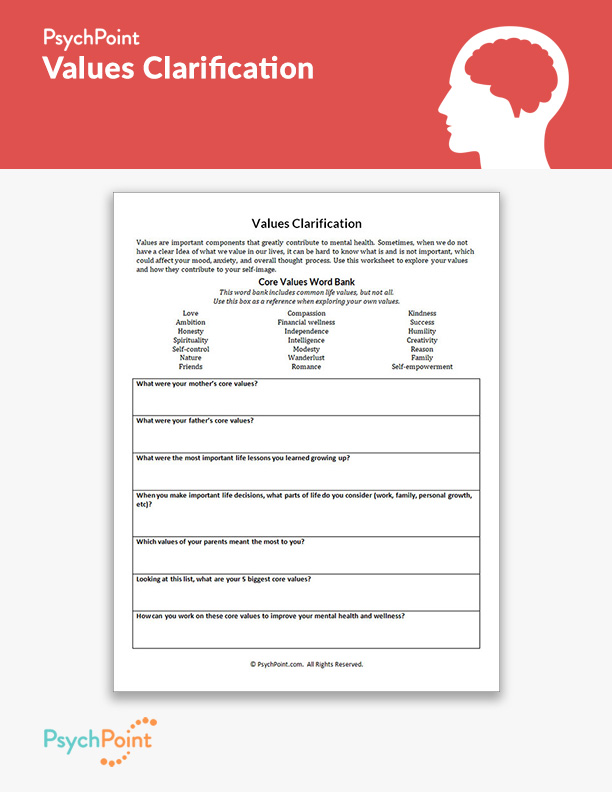 As therapists, we know that most issues and concerns our clients face are more dynamic and intricate than the client may realize. Many components contribute to presenting issues with our clients, and often there is more than meets the eye.
When working with clients on issues like emotional regulation, mood disorders, anxiety, and self-esteem, it is important to remember that the rooted issues causing the mental health concerns are rarely solely due to symptomatic issues and behavior. Things like family history, personal growth, morals, and values, all contribute to the development of the way our clients see themselves and the world around them.
About This Worksheet
This is the Values Clarification worksheet. This worksheet is designed to help a client explore his or her personal values, how they developed, and how they contribute to their personal, day-to-day lives.
This worksheet helps the client explore personal values they possess and would like to develop, as they work through their therapeutic journey. The worksheet helps clients learn how to think introspectively and brainstorm ways they would like to improve their lives.
Instructions
The goal for this worksheet is for the client to learn how to develop morals and values that will help improve his or her quality of life. To begin this worksheet, have the client work through each of the reflection questions and consider how each question has helped him or her develop into the person they are today.
Through working with this process, the client will learn what is important to him or her, and how to use that information to work toward growth and progress. This worksheet works great as a group exercise, as it will stimulate discussion and suggestion from others who struggle with similar circumstances.
More Substance Use Worksheets