Deep Breathing Worksheet
Worksheet published on December 5th, 2017
Worksheet updated on January 4th, 2021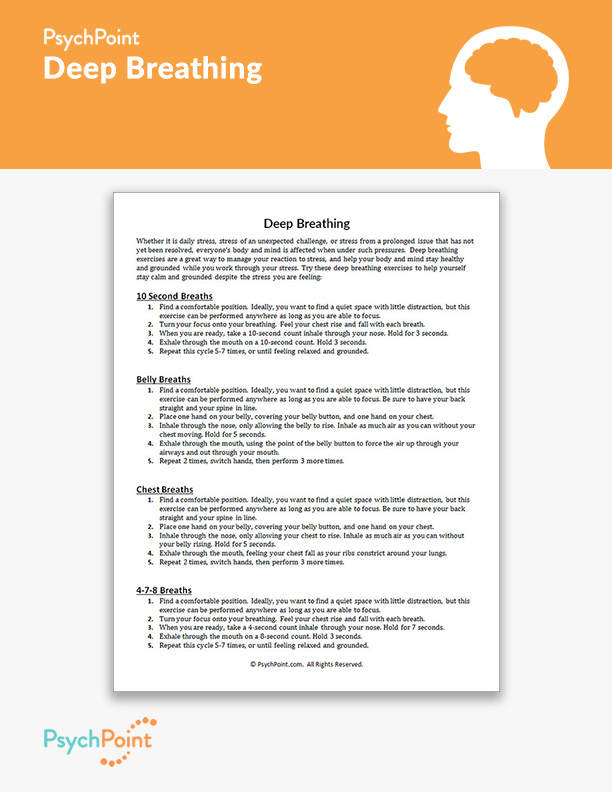 We all know that sometimes life can get overwhelming. Whether it is stress at work, home, or from an unexpected circumstance that causes us to feel overwhelmed. Whatever the case, it is important to know how to manage the feelings of stress, anxiety, fatigue, and depressed mood that comes with difficult circumstances.
We all have our own way of coping, but research has found that regularly performing deep breathing exercises significantly reduces the symptoms of stress we feel.
About This Worksheet
This is a Deep Breathing worksheet. On this worksheet, you will find 4 deep breathing exercises that have been found to significantly reduce symptoms of stress. The four breathing exercises found on this worksheet are:
10-second breaths
Chest Breaths
Belly Breaths
4-7-8 breaths
Each are commonly used in meditative exercises, along with therapeutic DBT work for stress management. This worksheet provides simple steps on how to perform these four popular forms of meditative breathing.
Instructions
This worksheet is a guide of how to perform each type of breath work. On this worksheet the user is provided with step-by-step instructions on how to properly perform the breaths. This worksheet is great for group settings and for teaching individual clients how to use breathing to reduce the feelings of stress and manage racing negative thoughts. It will also help with learning emotional regulation skills.
Work through each step of the exercises together with your client or group in order to teach them how to properly perform the breaths. Provide your client or group members with a copy of this worksheet to use outside of the clinical setting.
More Relapse Prevention Worksheets