My Stages Of Grief Worksheet
Worksheet published on December 1st, 2016
Worksheet updated on January 3rd, 2021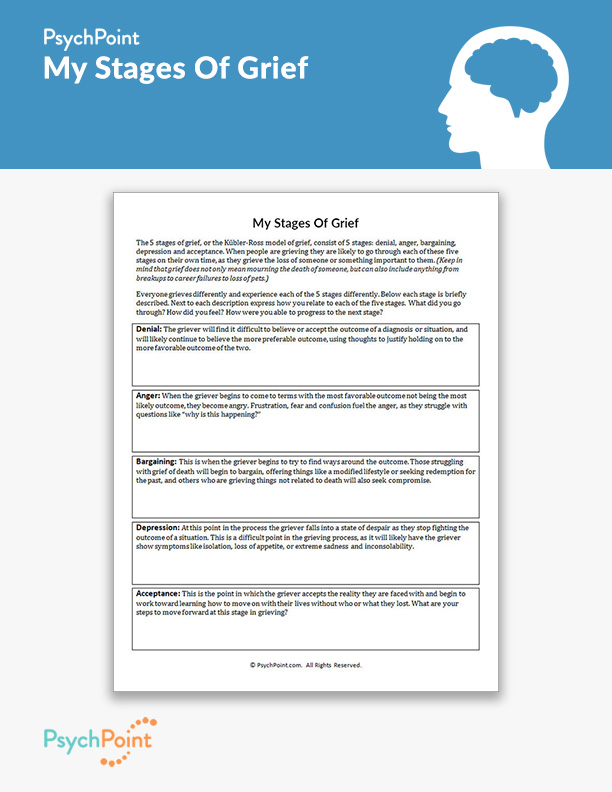 In 1969, Dr. Elisabeth Kübler-Ross developed the 5 stages of grief. This is where the grieving process is broken down into 5 stages. These stages include denial, anger, bargaining, depression and acceptance.
Each stage is a part of the difficult process of grieving that almost everyone who experiences loss faces. Although the theory behind the stages are pretty straightforward, each person will experience each stage at different times and in different ways.
About This Worksheet
This worksheet combines psycho-education with self-reflection, as it outlines each stage of grief and how it affects the grieving client.
The worksheet offers a brief description of what grieving is and how it affects people, along with a breakdown of each stage of grief. The client is then asked to reflect on each stage and how they have been affected by their own grief at different times.
This is a great way to help patients understand and be aware of the process they are going through in relation with the 5-stage model of grief.
Instructions
This worksheet is great for individual and group settings. Review each stage of grief with the patient and what it means to grieve. Then, have the patient identify which stage they are currently experiencing, discussing the feelings and evidence about the stage they are in.
After the discussion have the patient answer the questions for each stage outlined up to their established stage of grief. This exercise is great for developing an in-depth understanding of how their grief has affected them.
More Grief Worksheets