Substance Use Assessment Worksheet
Worksheet published on November 9th, 2016
Worksheet updated on May 5th, 2022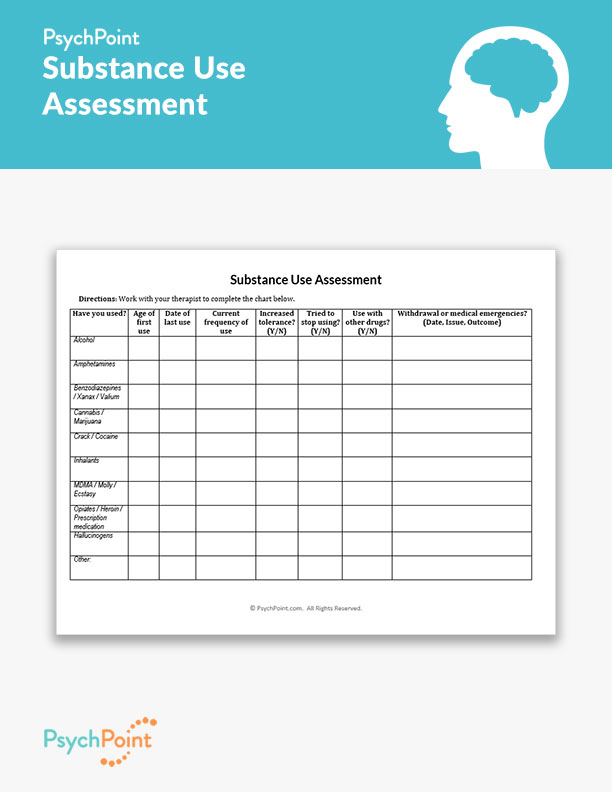 When a substance user first starts therapy it is important for both the therapist and patient to have a full understanding of the history and progression of the substance use. Such details as reasons behind first use, point in time where use increased, and difficulty with stopping use can be very telling when trying to understand a patient's use.
It is important for a therapist to sit with a patient and dissect the history of the substance use to help the patient understand his patterns, triggers, and struggles.
About This Worksheet
This is a substance use assessment based off of the Drug Abuse Screening Test (DAST) along with other assessments. This assessment covers the age of first use, date of last use, frequency during first year of use, current use frequency, tolerance, attempts to quit, use with other drugs, and any withdrawal or emergency experiences while using.
Instructions
The patient is asked to complete the chart with the therapist. The patient is given a list of substances and is asked the date of first use, date of last use, frequency at start of use, current frequency, medical emergencies, any mixing of different substances, tolerance, and any attempts to quit.
Have the patient use this as a self-reflection tool and review its contents together in an individual or group setting. Following up these questions with age or frequency trends can be very helpful in the beginning stages of treatment.
More Relapse Prevention Worksheets