Substance Use Assessment Worksheet
Worksheet published on March 20th, 2023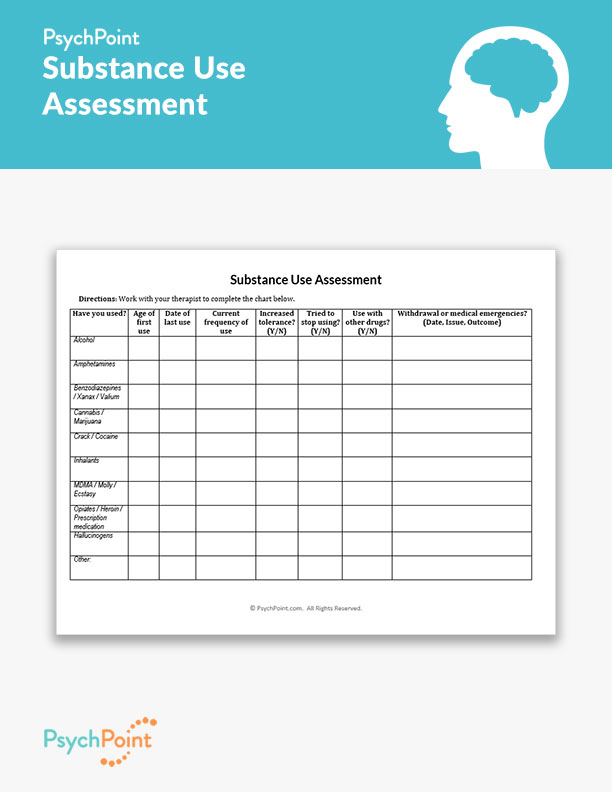 When a substance user first starts therapy it is important for both the therapist and client to have a full understanding of the history and progression of their substance use. Details about the client's history of substance use can help with understanding the purpose the substance use behaviors serves for the client and the difficulties they have had with stopping use. 
A therapist needs to gain a full picture of the client's substance use history and patterns. This can help with building a complete initial assessment and effective treatment plan. It can also help with understanding how other mood conditions and problematic behaviors have developed and need to be addressed in therapy.
About This Worksheet
This is the Substance Use Assessment worksheet. This worksheet incorporates key information needed for an initial assessment of someone who is entering therapy with a history of substance use. It incorporates key concepts from the Drug Abuse Screening Test (DAST) and other helpful substance use assessments. 
A therapist may utilize this worksheet with adolescents and adults who are seeking therapy for substance use or issues related to substance use. It is best utilized as a tool for intake and initial assessment and should be completed with the client on an individual basis.
Instructions
The Substance Use Assessment worksheet should be completed by the therapist. To complete the worksheet, review each row with the client. Fill in the row for each substance that the client has used in the past. Try to get as accurate information as possible.
When finished, review the results of the worksheet with the client and discuss recommendations and concerns that you or the client have. This worksheet may be used as a tool for treatment planning at the therapist's discretion.
More Assessment Worksheets