Goal Breakdown Worksheet
Worksheet published on February 11th, 2021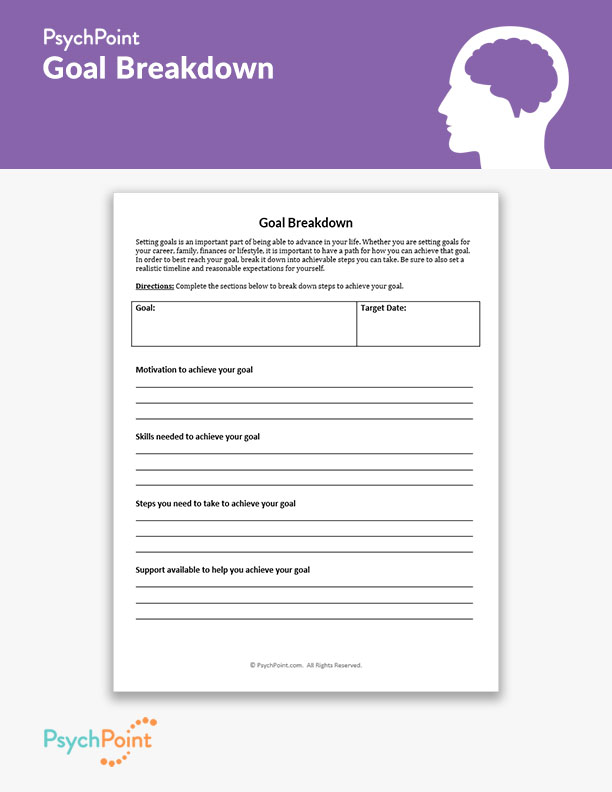 Setting life goals is an excellent way to set a path for a client in therapy. When a client has a goal they are trying to achieve, the feel a sense of purpose. A goal can give direction and motivation in a client's day. It can also help them identify and modify their own behaviors that may be hurting them.
While goals are important, they can be difficult to set. Deciding on a goal can be overwhelming for some clients. That is why it can be helpful to address goal setting in therapy. Providing guidance and encouragement can help a client who is struggling to set a goal for their future.
About This Worksheet
This is the Goal Breakdown worksheet. On this worksheet, a client has space to break down what is needed to achieve a goal they have set. The worksheet provides reflection questions that help them determine what they will need in order to achieve their goal. With this worksheet, a client can set realistic expectations about what they will need to do in order to achieve their goal.
This goal is intended for adolescents and adults. It can be helpful for people in individual and group counseling sessions. The worksheet is a tool that can be used for client who are struggling with different types of conditions.
Instructions
Instruct the client to write down the goal they are working toward and their target date for when they hope to have achieved their goal in the space provided. Provide encouragement and feedback about their goal, and allow the client to answer the reflection questions. The client may want your insight or guidance on completing the worksheet, so make sure that they know you are there to brainstorm with them if needed.
When the client has completed the worksheet, reflect on what the client has written. Offer feedback and modifications where needed, and ask reflection questions about the client's goal and responses to the worksheet. Provide a copy to the client at the end of the session for reference.
More Time Management Worksheets