Combat Cravings Action Plan Worksheet
Worksheet published on July 5th, 2017
Worksheet updated on June 26th, 2019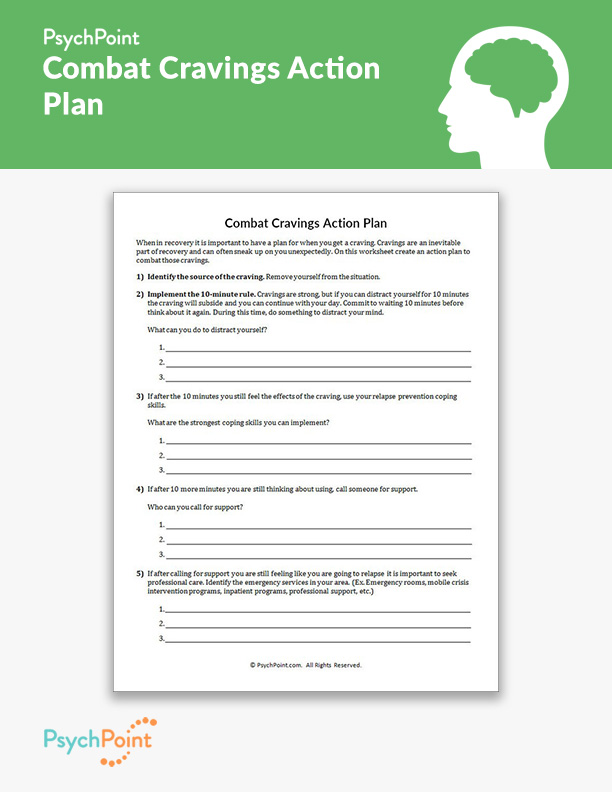 Cravings to engage in dangerous or indulgent behaviors like drinking, using drugs, overeating, or sex are a difficult thing for a patient to work through. Each time a patient experiences a craving or a trigger to engage in something they know is not good for them they are confronted with the conflict between doing what they crave to do and doing what they know is best for them.
It is a difficult situation to be in, so it is important to have a plan in place when cravings come about for a patient. Each patient needs a plan for such situations, and this worksheet is an excellent place to start making that plan.
About This Worksheet
This is the Combat Cravings Action Plan worksheet. This worksheet provides a layout for patients and therapists to work together with to create an action plan for the next time the patient confronts a craving. Cravings are difficult to cope with in the moment, so it is important for a patient to have something in writing that they developed themselves to refer to in those moments of crisis or conflict.
This worksheet incorporates everything the patient may need to prevent relapse into destructive behavior: the 10-minute rule for addressing cravings, an emergency contact list, and a recap of things the patient has learned in treatment to use in such situations. This worksheet works in a sequential process, using a hierarchy of safeguards in the even that the previous level did not successfully subdue the cravings.
Instructions
This worksheet works in a step-by-step process. The process works with the 10-minute rule for combating cravings. The instructions for the patient are to remove themselves from the triggering situation, have a plan to distract themselves from the craving, remind them of their strongest coping skills for the craving, and know who to call if they feel they are not able to combat the craving alone.
The patient and therapist work together to develop a list of sober activities to engage in when feeling triggered, a list of coping skills to use if the distractions do not successfully subdue the cravings, and a supportive contact list to use if they need extra support. It also includes a list of nearby emergency services the patient can utilize if they believe they are in danger of relapsing or getting hurt.
This worksheet is great for people who are newer to sobriety or have recently experienced a relapse. This worksheet is not limited to substance use, and can be generalized to reach any sort of issues your patient may be struggling to cope with.
More Eating Worksheets