Mindfulness Meditation Worksheet
Worksheet published on December 13th, 2017
Worksheet updated on January 4th, 2021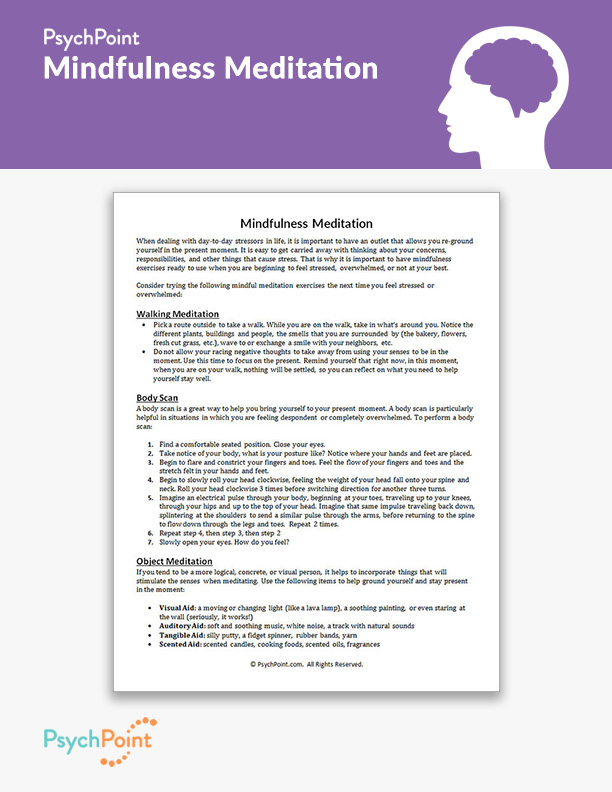 When confronted with a difficult situation or an uncomfortable feeling that is not easily resolved, it can be easy to fall into a pattern of ruminating over the discomfort. It creates an urgent need to resolve a situation or find a solution to help you feel better.
As we move through life, we learn that sometimes it is not as easy to find a solution. Sometimes we need to deal with prolonged and uncomfortable circumstances that we have little control to influence.
In situations like this it is important to have a set of skills and strategies to cope with the stress and discomfort of the difficult circumstance.
About This Worksheet
This is the Mindfulness Meditation worksheet. On this worksheet you will find a set of 3 mindfulness practices that have been found to significantly aid in stress management and coping with uncomfortable or upsetting situations that are not easily resolved.
The exercises on the worksheet will also help a great deal in the management of day-to-day stress and dealing with the challenges of everyday life. Each exercise is easy to perform and can be incorporated into anyone's daily schedule.
Instructions
On this worksheet you will find 3 mindfulness exercises:
Walking Medication
Object Meditation
How To Perform A Body Scan
Each exercise has information on why the exercise is helpful and how to properly perform the exercise to feel more at peace.
These exercises are intended to be used on a daily or as needed basis, and do not require the assistance of a mental health professional. It could be helpful to consult with your therapist and work together and learn how to properly perform the exercises if you are new to mindfulness or meditative exercises.
For professionals, each of these practices are great help teach patience, stress management, emotional regulation, ways to reduce anxiety, and strategies to improve a patient's mood.
More Values Worksheets