Goal Sheet Worksheet
Worksheet published on October 27th, 2016
Worksheet updated on June 27th, 2019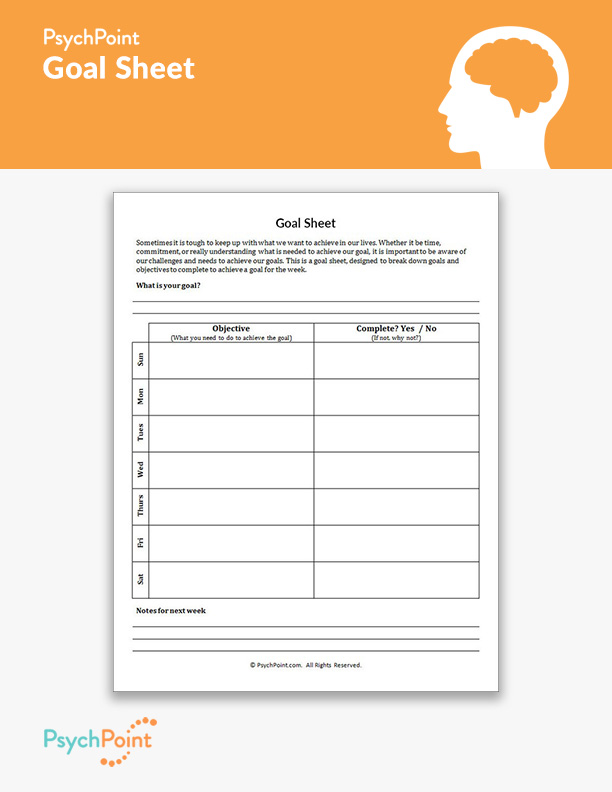 Patients who are suffering from a mental illness can often feel discouraged from being able to achieve their goals. Sometimes their ambitions and efforts are cut off by thoughts like "why bother?", "it's too much, I won't be able to do it" or "I will start tomorrow".
It helps a great deal to draft a list of goals and objectives to keep the patient focused on what he or she needs to do. It is also fun and encouraging for the patient to see the progress made in a week.
About This Worksheet
This is a weekly goal sheet where the patient outlines the goal and objectives for the week to complete. The worksheet consists of an outline of objectives to complete each day of the week, a column to record whether or not the patient completed the goal, and a space to explain why an objective was not achieved if it was not completed so the patients are held accountable for themselves and the reasons behind not completing an objective. This worksheet is excellent for those who are depressed, have stress management issues, or are overwhelmed with their day-to-day lives.
Instructions
Work with the patient to develop a goal to achieve for the following session. Begin with identifying the objectives needed to achieve each goal, and begin to draft them on the left side of the chart. Instruct the patient to complete the right side of the chart throughout the week, at the end of each day.
This worksheet will serve as encouragement and structure for the patient, along with teaching the patient accountability for their actions.
More Substance Use Worksheets