Positive Activities For Behavioral Activation Worksheet
Worksheet published on January 25th, 2017
Worksheet updated on January 4th, 2021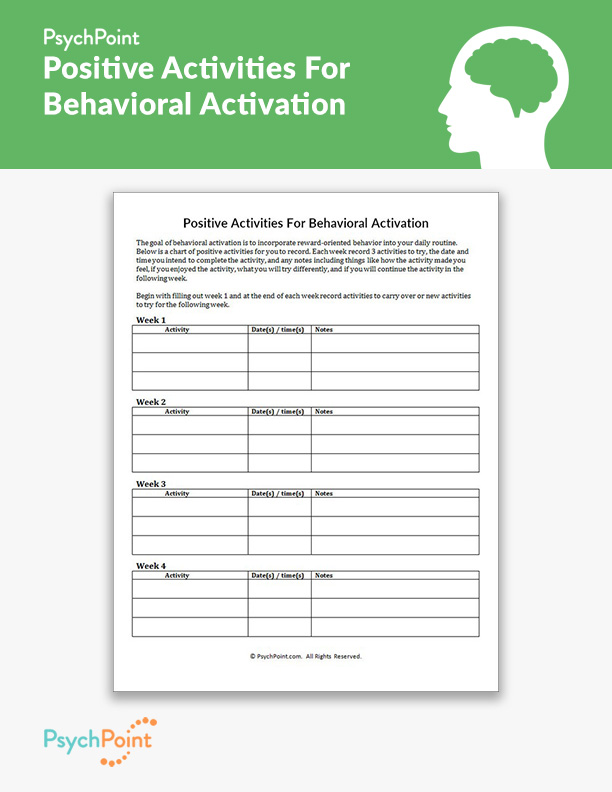 When patients suffer from more debilitating emotional issues like depression and severe anxiety it can be difficult for them to keep from falling into bad habits like isolating and cutting off things that bring them joy.
Of course this is understandable, as with such mental illnesses it can be difficult for a patient to enjoy the moment. This is why it is beneficial to encourage the patient to engage with their environment and stimulate their minds.
About This Worksheet
This is a behavioral activation worksheet that encourages the patient to engage in the activities they enjoy and try new activities that they are curious about. It is a good exercise for those who suffer from depression, anxiety, life stress or even an overwhelming weekly schedule, as it provides a guideline and a means to brainstorm things that could be positive for the patient.
This worksheet outlines positive activities to try over the span of 4 weeks and provides enough space to keep the patient motivated and accountable while preventing them from becoming overwhelmed.
Instructions
Each week the patient is to complete a chart outlining three activities they will engage in to prevent them from falling too deep into their minds. The activities can be a combination of activities the patient knows they enjoy and activities the patient would like to try.
At the end of each week the patient will be asked to prepare the next week's chart where they can carry over up to two activities from the previous week and include one new activity to try. The charts consist of a list of the activity, the date and time the activity will be completed, and a notes section where the patient can highlight what they learned about each activity.
Download Positive Activities For Behavioral Activation Worksheet
More Motivational Interviewing Worksheets