Triggers And Coping Strategies For Depression Worksheet
Worksheet updated on July 9th, 2018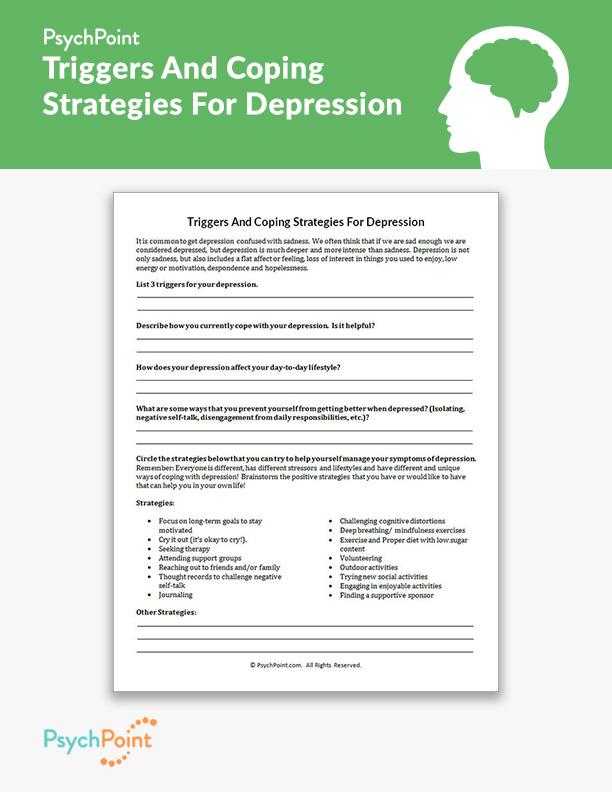 Like all mood disorders, it is important for the patient to really understand their depression, how it affects them, and how they help or hinder their ability to stay well when managing their depression.
Often, people with depression feel hopeless to get better, which will prevent them from trying new things to manage their depressed mood. Many do not realize their own self-destructive habits, like isolation and negative self-talk, and how it prevents them from moving forward in their recovery.
About This Worksheet
This worksheet addresses triggers for depression along with the potential coping strategies available. First, the worksheet has the patient reflect how their depression affects them and their day-to-day life.
It then has the patient reflect section on their current coping strategies to determine whether they are helpful or hurtful. This worksheet offers some potential new coping strategies and provides space for brainstorming, which is particularly helpful for group settings.
Instructions
To begin, have the patient complete the questions:
The patient is asked to identify 3 triggers for depression
How depression affects their lifestyle
How they cope
Their obstacles from feeling better when depressed
When the patient completes asking the questions, review the results and consider the strategies offered on the worksheet. There is also room to brainstorm strategies with the patient if needed.
Download Triggers And Coping Strategies For Depression Worksheet
Related PsychPoint Sleep Worksheets