Cognitive Distortions: Filtering Worksheet
Worksheet published on May 14th, 2019
Worksheet updated on June 20th, 2019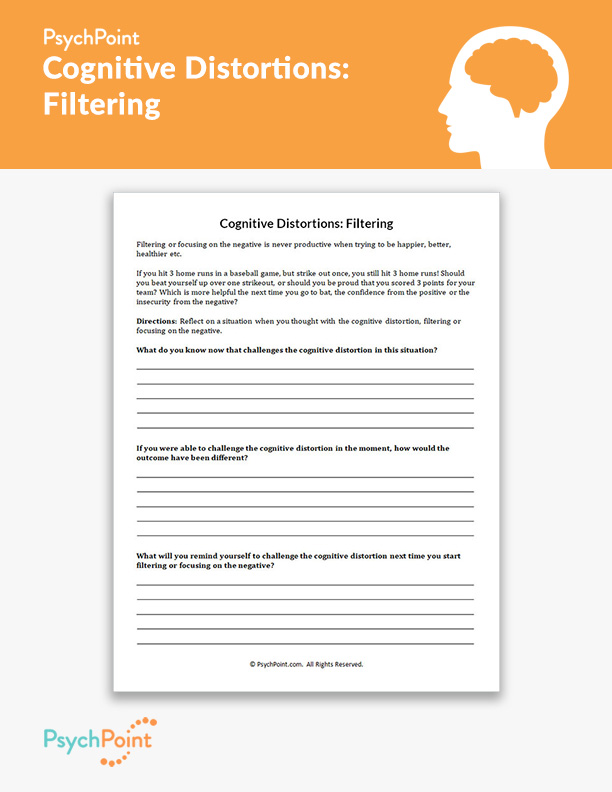 Cognitive distortions are powerful and erroneous thought patterns that significantly affect a client's ability to perceive and understand an upsetting situation. Filtering is also referred to as focusing on the negative, which can be detrimental to a client's self-image and ability to think reasonably.
It is important for a client to understand how the habit of filtering is affecting their ability to cope with upsetting situations.
About This Worksheet
This is the Cognitive Distortions: Filtering worksheet. This worksheet provides an explanation of what filtering is and how it affects people. On this worksheet you will find:
A brief introduction to filtering
An example of what filtering is and how it affects a person
Space to reflect on how filtering is affecting the client.
This worksheet is great for individual and group counseling sessions. It can also be instrumental in family and couples counseling. Adolescents and adults can understand and benefit from the content of this worksheet.
Instructions
Review the information about filtering with the client. Explain the definition of filtering and how it is affecting their quality of life. Review the example with the client to ensure that they understand the content and how it applies to them.
Instruct the client to complete the three reflection questions. The client should choose a situation in which they were filtering, and use this situation to complete the three reflection questions.
More Borderline Personality Disorder Worksheets