Boundaries Exploration Worksheet
Worksheet updated on January 3rd, 2021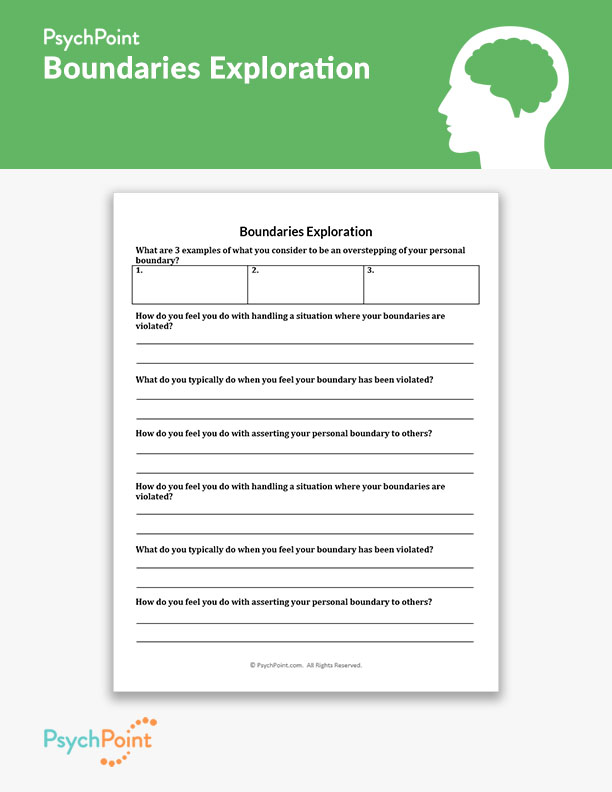 A huge part of having a healthy lifestyle and promoting healthy relationships is to have proper boundaries with yourself and with other people Boundaries are very important, but can sometimes be difficult to maintain. Everyone's boundaries are different. They mean different things to different people. Everyone has their own unique needs and expectations in their relationships. With these different expectations, it is important for a client to able to set firm and realistic boundaries with the people in their life.
It can be a challenge for clients to set clear and unwavering boundaries. Boundaries require assertiveness. They require maintenance and the ability to stand one's ground, even if it means having another person disappointed or upset with the set boundary.
While it is difficult, it is important for your client to have an understanding of the boundaries they need in their life, and what they need to do in order to maintain those boundaries.
About This Worksheet
This is the Boundaries Exploration worksheet. This worksheet serves as a guide for your client to explore and understand the boundaries they need in order to maintain self-health and healthy relationships.
With this worksheet, your client is guided through a process of exploring their own personal boundaries. They also learn about what they need to learn in order to be able to assert those boundaries.
This worksheet is great for adult clients. It is best used in individual counseling, couples counseling and family counseling sessions.
Instructions
To complete this worksheet, explain to the client or couple the importance of establishing and maintaining personal boundaries. Ensure that the client understands that they need and have the right to personal boundaries, and that a failure to maintain those boundaries can result in dysfunctional relationships and unnecessary stress.
Instruct the client to complete the questions on the worksheet. If needed, aid them with the questions. Help them explore the different ways that boundaries can be established and asserted.
When the client completes the worksheet, review the responses with them to facilitate conversation about formulating a plan to set clear and concise boundaries.
More Relapse Prevention Worksheets