Anger Thermometer Worksheet
Worksheet published on October 18th, 2016
Worksheet updated on May 7th, 2022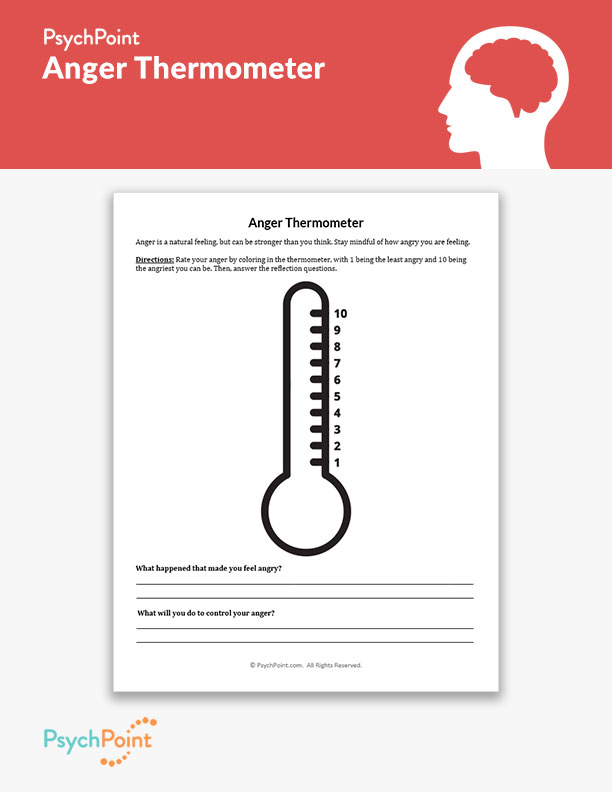 An important step to understanding your anger is understanding how intense it can become and the situations that make it as intense as it can be. Patients with anger management issues sometimes find it difficult to assess a situation and their reaction to the situation.
An anger thermometer is a good way to help patients reflect on how intensely they feel anger, how strongly they react, and how to consider how the anger affects the situation and themselves. With the anger thermometer the patient gets a visual on how intensely they react and whether the reaction is warranted.
About This Worksheet
What is unique about this anger thermometer is it factors in the control over the triggering issue. The patient is asked how much control they actually have over the situation and whether it is worth getting angry about if they have little control. It also has the patient reflect on what they do with the control they do have and whether it is productive.
Finally, it addresses those primary emotions that are triggering the anger, which is not often considered by the patient. This exercise is great for a group or individual setting and will help patients collaborate on effective ways to address anger and behavior.
Instructions
To begin, have the patient identify the situation and color in how angry it makes him or her. Then have the patient proceed with asking the following questions about the triggers and consequences in order.
Then, have a discussion about control- what is control, and how much control does the patient really have? After the discussion, have the patient complete the last questions and review with his therapist his or her thoughts.
More Relationship Worksheets