Anger Thermometer Worksheet
Worksheet published on January 24th, 2023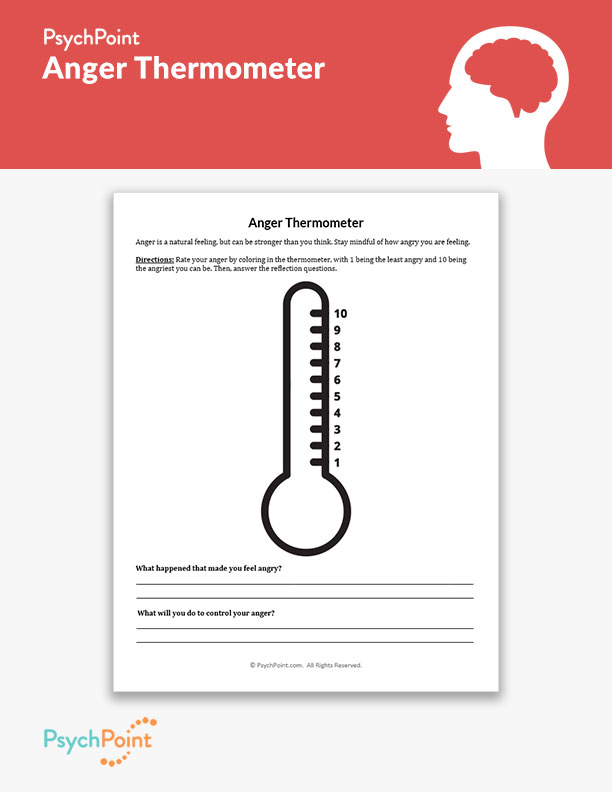 An important step to understanding anger is understanding how intense it can become and the situations that make it as intense as it can be. People with anger management issues find it difficult to assess a situation without their anger affecting their judgment, which makes it challenging for them to control their reactions.
Learning how to gauge how angry a person in therapy is feeling is a good way to help them learn how to control their anger. It helps them reflect on how intensely they can feel anger, how strongly they react, and how their angry behavior leads to consequences. 
About This Worksheet
This is the Anger Thermometer worksheet. With the anger thermometer worksheet, the client completes a visual aid of how angry they feel and how it affects their reaction. The worksheet also offers an exercise to help the client reflect on what they do to manage their anger and whether it is productive.
The Anger Thermometer worksheet is a great exercise for group or individual settings. It can be especially helpful in group settings in which clients can collaborate on effective ways to address their anger and behavior. It is intended to be used with adults who are in therapy for anger management issues.
Instructions
To begin, discuss how anger affects the client and why it is important for them to understand how their anger can grow and cause them to react. When you are ready, have the client identify a situation that triggers their anger and color in how angry it makes them feel on the thermometer. Then, allow the client time to answer the reflection questions. 
Review the responses with the client and discuss why it is important for them to stay in control of their anger. This exercise may be used as a tool for developing a plan for gauging their anger and the best times to use the coping skills they learn in therapy.
More Relationship Worksheets