Understanding Anger Worksheet
Worksheet published on January 17th, 2023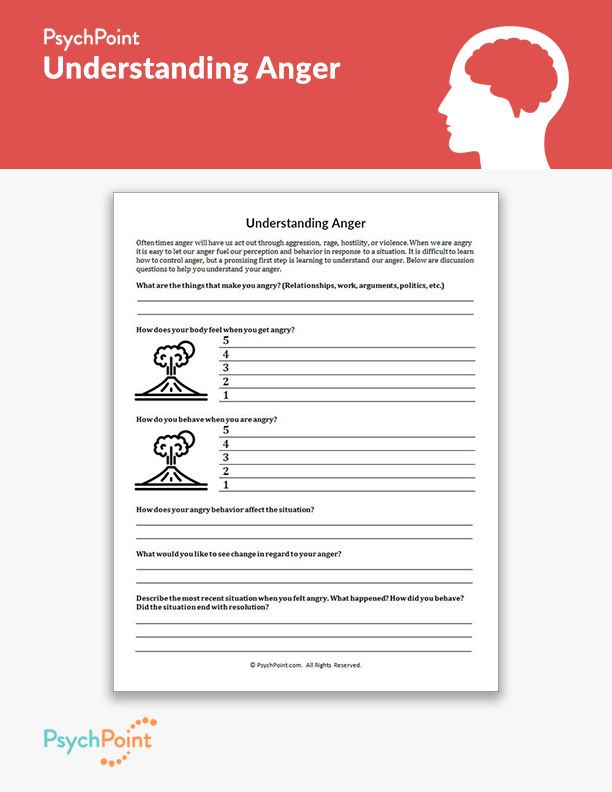 Anger can be a difficult feeling to understand and control. Everyone feels angry sometimes, but dealing with chronic anger can be challenging for a number of different reasons. It is not easy for a client to struggle with controlling their anger, but a good first step to managing angry feelings and minimizing consequences is to learn more about why their anger is there and how it affects them.
For clients to understand their anger and how it affects them, they must understand where their anger comes from, how they learned to cope with anger, and what tends to trigger their anger. Understanding how anger works and what a client wants to be able to do to manage it helps with learning how to manage anger issues.
About This Worksheet
This is the Understanding Anger worksheet. This worksheet serves as an introduction to better understanding recurring anger and how a client is affected by their anger. It serves as an aid for identifying triggers for anger, behaviors that result from anger, and what anger feels like. Clients can also benefit from this worksheet when they are learning how to identify their anger warning signs.
The Understanding Anger worksheet is intended to be used with adolescents and adults who are struggling with anger management and related issues. It can be used in individual and group settings. In some cases, it may also be helpful in family counseling.
Instructions
Before asking the client to complete the worksheet, have a discussion with them about what anger is and how their anger has affected their life up until this point. Review the worksheet introduction with the client. Then, allow them to complete the reflection questions. 
The questions with the volcano images should be completed based on a scale of 1 to 5, with 1 being at the base of the volcano and 5 being at the top of the volcano. Instruct the client to record the reactions they may experience from the mildest level of anger on level 1 to their most severe feelings of anger on level 5.
When the client has completed the reflection questions, review the results with them and brainstorm how the findings on the worksheet can be used to create a plan for anger management.
More Social Skills Worksheets