Understanding Anger Worksheet
Worksheet published on October 11th, 2016
Worksheet updated on June 27th, 2019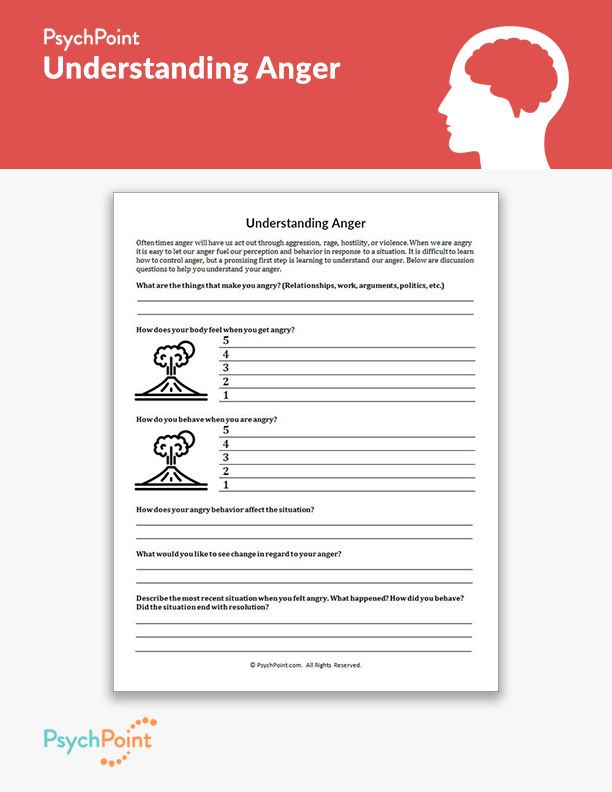 Anger is a difficult feeling to understand and control. When a patient suffers from anger management issues it is easy for them to identify through the feeling and behavior. Of course, holding on to anger is not a healthy habit, so we want to teach our patients a healthier way to handle emotions.
In order for patients to understand their anger and how it affects them, they must understand where their anger comes from, how they learned to be angry, and their triggers for anger.
About This Worksheet
This worksheet serves as an introduction to anger and how it affects the patient. It has the client identify triggers for anger, the behavior that results from anger, and what anger feels like. The worksheet has the patient really start to understand anger, where it comes from, and what it feels like.
Answering the questions provided will open the patients' eyes to how severely they are affected when they let their anger take control.
Instructions
Before asking the patient to complete the worksheet, have a discussion with them about what anger is and what it means to be angry. There is information provided in the introduction that will aid in explaining what it is to be angry. After the discussion the patient is asked questions to describe their anger. To begin, the patient is asked about the triggers for anger.
Then the patient is asked to describe what it feels like and how he or she behaves at each level of anger (1-5). These two questions are followed by question about how the anger affects the upsetting situation and what the patient feels needs to change for the better.
More Behavior Worksheets