Exploring Values Worksheet
Worksheet published on July 24th, 2023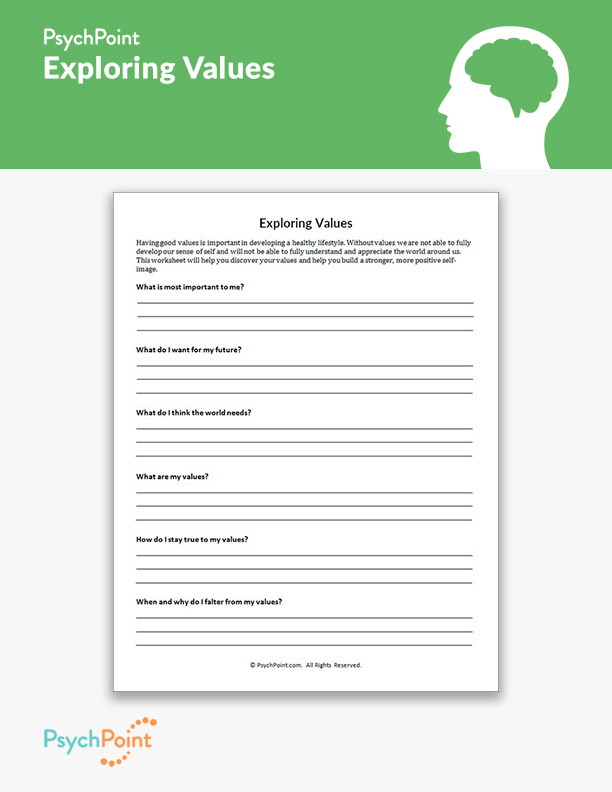 A common component to a client's experience with low self-esteem or emotional issues is poor self-image. There are many reasons that a person may have a poor self-image, but one reason that can affect a client is not being aware of or understanding the things they value in life. Being disconnected from personal values can significantly impact self-esteem. It can also cause a person to feel like they lack direction or motivation in life.
Helping a client discover their values can help a great deal when they are working on discovering personal strengths and what is important to them. Exploring values can also help people feel more in touch with who they are and encourage them to work on improving their lifestyle and mental health.
About This Worksheet
This is the Exploring Values worksheet. The goal of this worksheet is to aid the client in discovering their values and how they apply their values to their day-to-day life. Most people have a set of values, but it can be difficult at times to live life through those values. Sometimes, values slip away from conscious awareness when a client is struggling with their mental health. 
The questions on this worksheet help the client discover the values that they already live by, along with the values that they may need to strengthen to develop a stronger sense of self. It will also help with goal setting, another exercise that can be helpful with clients. This can be particularly in helping clients with self-esteem issues or low motivation to recover achieve independence and their life goals.
This worksheet can be used in an individual or group setting. It is appropriate for adolescents and adults working on building their values.
Instructions
Before introducing this worksheet, have a discussion with your client about their values. Explain why it is important to be in touch with personal values, and how strengthening their values may help them in therapy. 
The questions on this worksheet are self-reflective and require the client to take their time to record their thoughts. When they are done, review their responses and open a discussion about how connecting with their values can help them achieve their treatment goals. 
In a group setting, you may also use the questions as prompts for discussion after the clients have completed recording their responses. Having a group discussion about values can help clients learn from each other and build on their own values. Allow the client to take a copy with them for reference.
More Values Worksheets