Relapse Prevention Plan Worksheet
Worksheet published on August 14th, 2018
Worksheet updated on June 24th, 2019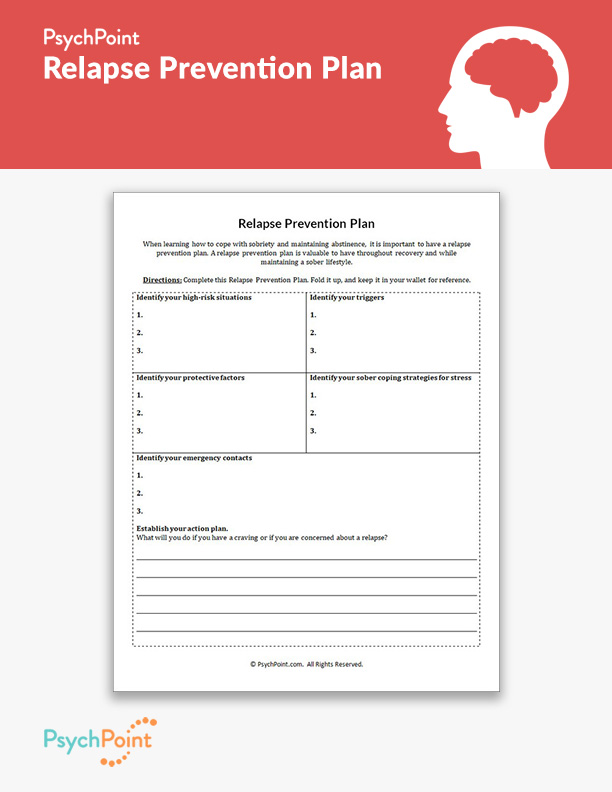 When in recovery, it is important to have a safety plan. Patients who are in recovery will face many challenges, and most of them will be unexpected.
This is why helping our patients be prepared for triggers, cravings and obstacles is critical for recovery.
About This Worksheet
This is the Relapse Prevention Plan worksheet. This worksheet helps the patient in recovery by giving an aid to support him or her while going through the day.
The worksheet is in the form of a coping card, and outlines the important reminders to maintain sobriety and good health when confronted by a trigger.
Instructions
This worksheet is great for individual and group sessions.
On this worksheet, your patient is asked to identify the following:
High-risk situations
Triggers
Protective factors
Sober coping strategies for stress
Emergency contacts
Action plan
After your patient has completed the worksheet review the results with him or her. Instruct the patient to cut out the perforation and place the relapse prevention plan in his or her wallet, or somewhere it will be readily accessible for reference in high-risk situations.
More Behavior Worksheets