Recognizing Stress Worksheet
Worksheet updated on January 4th, 2021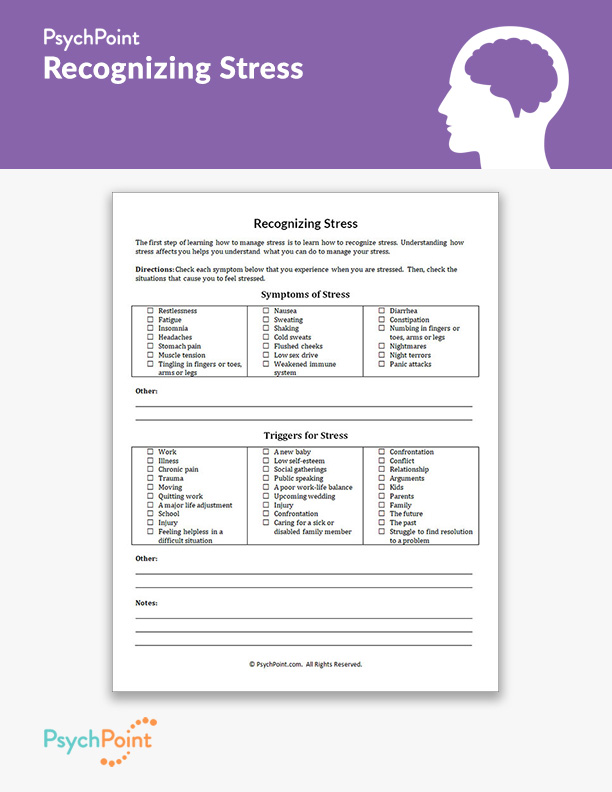 The first step to managing stress is learning how to recognize stress. Most people who experience symptoms of stress do not realize that it is a physiological reaction. They also do not realize how often daily occurrences can be triggers for stress.
When working with a client who is struggling with stress-related issues, it is important to first teach that client how to properly recognize symptoms of stress and triggers that cause stress.
About This Worksheet
This is the Recognizing Stress worksheet. This worksheet serves as the first step in learning how to manage symptoms of stress.
This worksheet provides a list of triggers and symptoms for stress that the client may be experiencing. In reviewing this worksheet the client gains a better understanding of stress and how it affects him or her.
Instructions
To teach a client how to manage stress, you must first teach him or her how to identify stress. On this worksheet there are 2 sections:
Symptoms of Stress
Triggers for Stress
On the worksheet, the client is instructed to check off each bullet that he or she experiences when stressed and each bullet that causes stress. The client is also asked to reflect on other symptoms and triggers that may not be listed.
This worksheet is great for adolescents and adults, and can be used in both individual and group settings.
More Sleep Worksheets