Gratitude Journal Worksheet
Worksheet published on February 13th, 2023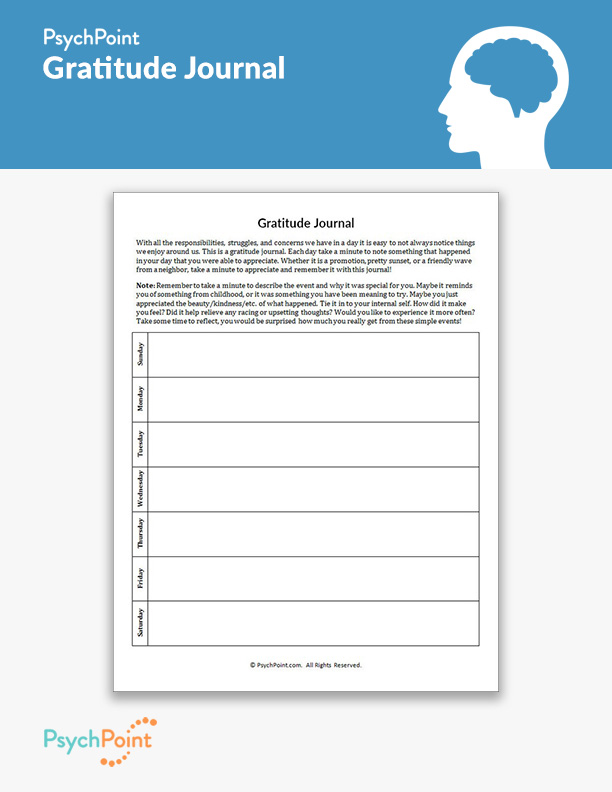 Utilizing gratitude skills with clients in therapy is a great way to help them learn how to cope with stress and frustration. With all the responsibilities we have each day, it is easy to get wrapped up in the stress of the moment and miss out on the things we appreciate in this world.
When a client is overwhelmed with their life circumstances, it can be helpful to use gratitude exercises. Gratitude exercises can be simple and help remind us to focus on things that we appreciate about our days and our lives. Teaching clients how to focus on things they are grateful for helps them re-center their minds and feel more grounded. 
About This Worksheet
This is the Gratitude Journal worksheet. On this worksheet, clients are asked to record and reflect on something happy or positive that they would normally overlook during the day.
For example, someone who is crunching numbers all day in the office may benefit from reading a comic during their lunch hour to lighten their mood before returning to their work. Paying attention to little things like this can make a huge difference in a client's overall mood and stress levels.
This worksheet provides a space to reflect on different gratitude exercises that can be used to reduce stress and lift spirits. It is a great homework assignment for adolescents and adults who are struggling with stress, anxiety, and depression.
Instructions
To begin, review the introductory paragraph and instructions with your client. The worksheet asks the client to take a minute each weekday to appreciate something that happened during the day and write about how it made them feel.
Instruct the client to take home the worksheet and record one thing they are grateful for on each of the designated days of the week. The following week, review the results of the worksheet to find gratitude exercises that the client can continue to use when feeling stressed or down. Check-in with the client about how their mood was affected by incorporating this gratitude exercise and open a discussion about how paying attention to good things each day can help alleviate their symptoms.
More ACT Worksheets