Goodbye Letter Worksheet
Worksheet published on June 18th, 2019
Worksheet updated on November 11th, 2021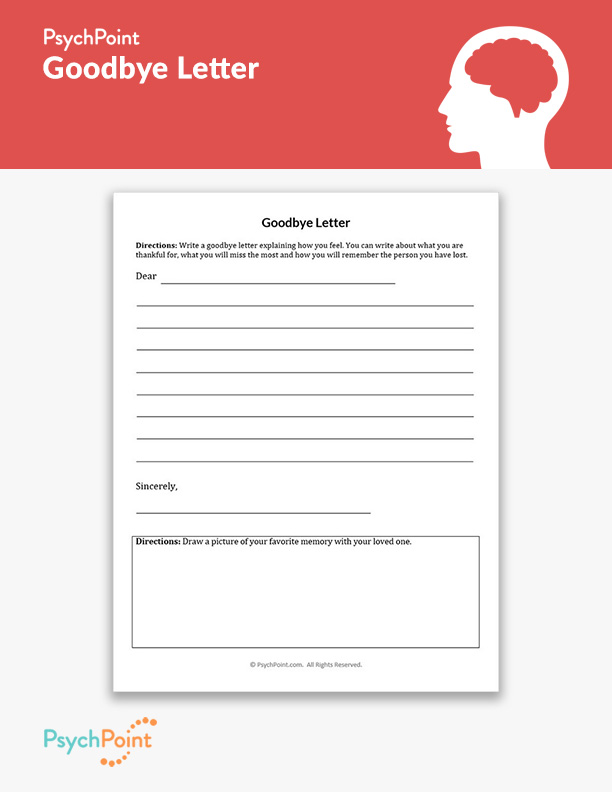 Grieving can be very overwhelming and confusing for a child. Loss and death can be complicated concepts, and it can be hard for a child to understand what death and loss mean, and how the permanence of a loved one's passing will affect them.
It is not uncommon for a child to feel many different feelings and not know how to cope with them. It can be challenging for a child to know how to move forward without the person they lost. Whether it is a family member, friend, or pet, a child will feel their absence and be confused about how to fill the gap.
Because of this confusion, it can be hard for a child to understand and express how they are feeling. Guiding them through their grief is helpful for a child to understand the permanence of loss and how they are feeling with the absence of their loved one.
About This Worksheet
This is the Goodbye Letter worksheet. This worksheet provides space and guidance for a child to work toward understanding how they are feeling after losing someone important to them.
On this worksheet, a child has the space to explore how they feel, along with what grief and loss mean to them. They can explore their emotions and memories in a safe space that leads them toward the path of healing.
This worksheet also provides a space for the child to say their goodbyes to their loved one. Through writing a goodbye letter, the child can feel closure for their loss.
This worksheet is intended for children up to 12 years old, but can sometimes be useful for adolescents and adults who are struggling to process their grief as well. It is an expressive exercise that can be used in individual, group, or family counseling settings.
Instructions
Before introducing this worksheet, have a conversation with the child about what it means for a loved one to pass or depart from the child's life. Not all loss comes from death, so ensure that you cater the conversation toward the child's situation. Introduce the worksheet as a method for saying goodbye to the loved one they have lost.
On this worksheet, the child is instructed to write a letter saying goodbye to their lost loved one. The child has the freedom to express how they feel in their own way. If needed, help the child write their letter. You may also guide them through the writing process by reviewing the reflection prompts provided in the worksheet directions.
When the child has finished their letter, allow them time to complete the drawing exercise. When the child is done, review the letter with the child. Encourage them to express what they need to express to promote healing.
More Therapy Worksheets