Food Journal Worksheet
Worksheet published on February 22nd, 2017
Worksheet updated on June 26th, 2019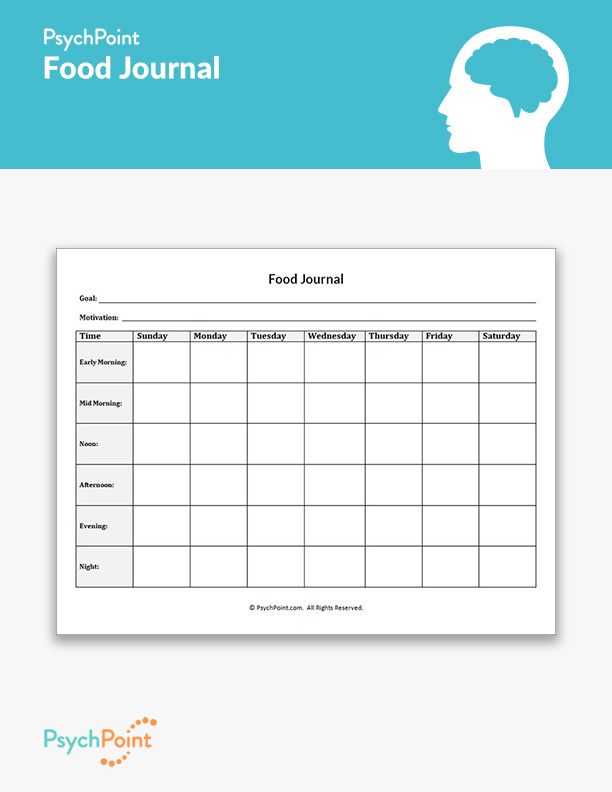 People who suffer from eating disorders have a difficult time staying on track with a healthy diet. Whether they are inclined to eat too much or not enough, it can be a difficult keep track of the progress they are making in their journey back to health.
Often when a patient is first starting out with treatment for eating disorders it is difficult to identify the problem habits and develop a treatment plan. Tracking the habits of the patient before and during the development of a treatment plan is a great way to keep track of the patient's progress.
About This Worksheet
Keeping track of the patient's habits outside of the therapist's office is a great way to aid recovery.
An effective way to begin identifying problem areas and tracking progress is to have the patient complete a weekly food journal. This food journal is helpful because it allows the patient to track their food intake, progress, and identify problematic patterns and errors in their weekly routine.
It can also serve as motivation for recovery because as they continue to complete weekly food journals they will see the progress they are making, which will encourage them to continue to work hard to reach their goals.
Instructions
This worksheet charts out the 7 day week and provides space to record what and at what time the patient ate. It also asks the patient to set a goal and identify their motivation to stay consistent with making healthy food choices.
This food chart is to be completed by the patient as they go through each day of the week. Explain to the patient the goal for this worksheet and why it is important for them to stay consistent with tracking their food intake. After you are confident the patient understands the importance of this exercise, have them develop a goal and motivation to stay consistent with their therapeutic goals outside of the session.
Fill in the date of each weekday to ensure the worksheet is correctly completed and instruct the patient to fill out any information you see relevant (What was eaten, how much it was eaten, why it was eaten, etc.).
This worksheet provides space for 10 entries per day, so provide additional copies if needed.
More Sleep Worksheets