Food Diary Worksheet
Worksheet published on December 3rd, 2018
Worksheet updated on June 21st, 2019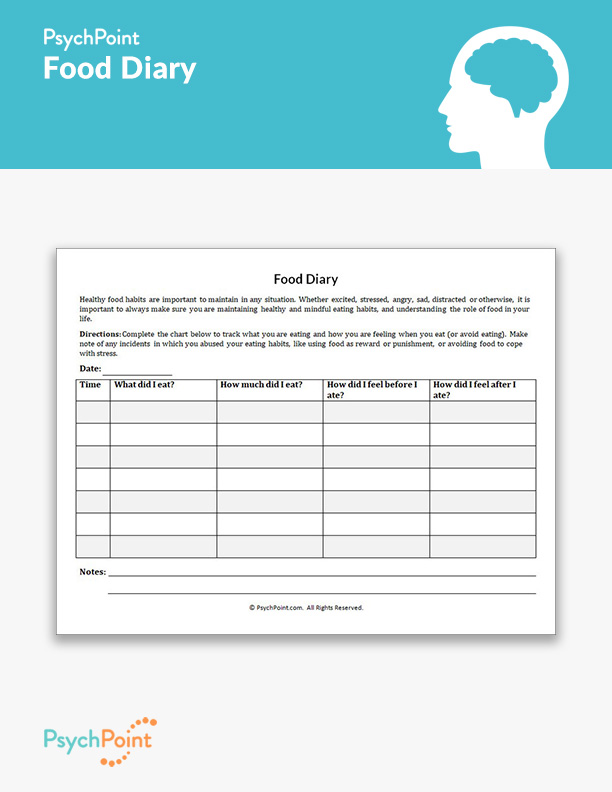 People can develop unhealthy eating habits for a number of reasons. Some people use food as a reward, punishment or comfort, while others do not prioritize eating in times of stress. Establishing and maintaining a healthy diet is a critical part of mental health. Without a healthy body a person cannot maintain a healthy mind.
About This Worksheet
This is the Food Diary worksheet. This worksheet is a log in which a client can record their eating habits, triggers and portions. On this worksheet, the client is provided with a blueprint for keeping track of their dietary habits. It is instrumental in helping to identify and modify unhealthy eating patterns and attitudes.
Instructions
This worksheet is intended to be used as a homework assignment. On this worksheet the client is expected to keep track of what they eat throughout the day. They are also expected to keep track of how they feel when they are eating. The client is instructed to record the following:
Time
What did I eat?
How much did I eat?
how did I feel before I ate?
How did I feel after I ate?
The client is also provided with a Notes section, where they may record notes that are relevant to their eating habits, like triggers, stressors, reflections, etc.
Have the client complete one sheet per day between sessions. Review the results to identify triggers and causes of unhealthy eating during next session with the client.
More Behavior Worksheets