Behavior Chart Worksheet
Worksheet published on May 16th, 2017
Worksheet updated on June 26th, 2019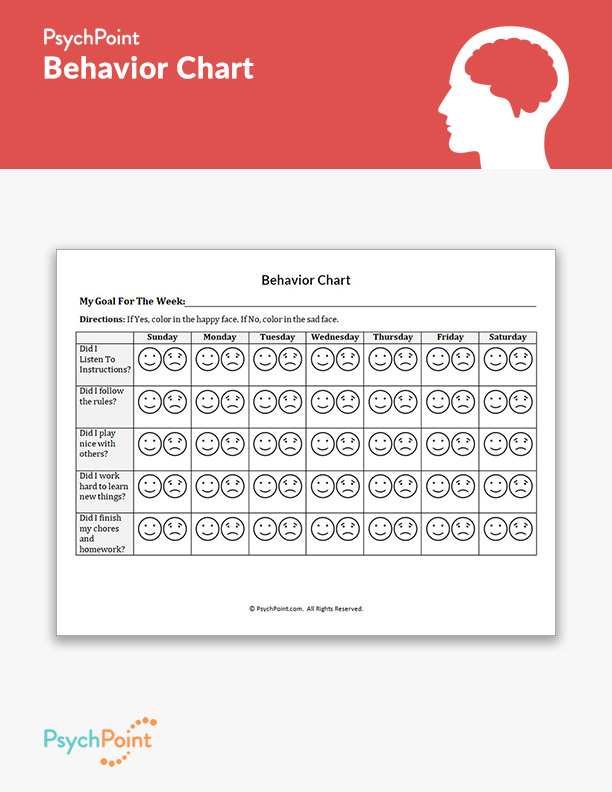 When it comes to teaching children proper behavior it helps a great deal to have a reward system in place in which the child can watch his or her progress grow. Such positive reinforcement helps with keeping children motivated to keep growing and working hard to learn good behavior and responsibility.
Especially when dealing with children with behavioral problems, having a reward system in place provides the right motivation because it gives the child a sense of control and accountability for both good and bad behavior. One helpful helpful tool for encouraging children to work hard to perform and behave well is a behavior chart.
About This Worksheet
This worksheet is a behavior chart. It is intended for children ages 5 and over and is particularly helpful for children with attention and behavioral issues. This behavior chart helps the child learn how to be accountable for his or her actions, responsibilities, and behavior.
It keeps the child engaged in learning positive behavior skills by allowing him or her to participate in their own growth, consequences and rewards. On this worksheet you will see the following questions: Did I listen to instructions? Did I follow the rules? Did I play nice with others? Did I work hard on learning new things? Did I finish my chores and homework?
Instructions
The child is expected to be actively participating with this worksheet. At the beginning of each week help the child create a goal for the week to work toward. At the end of each day of the week review the behavior chart with the child. If the child completed the task, have him or her color in the happy face. If the child did not complete the task, have the child color in the sad face.
It is recommended to instill a reward system for the child to receive at the end of each week if his or her behavior met the agreed upon expectations between caretaker and child. If the child is in counseling it will be particularly helpful to have his or her mental health professional involved with the completion of weekly behavior charts.
More PTSD Worksheets