Understanding Anxiety Worksheet
Worksheet published on July 25th, 2016
Worksheet updated on December 23rd, 2020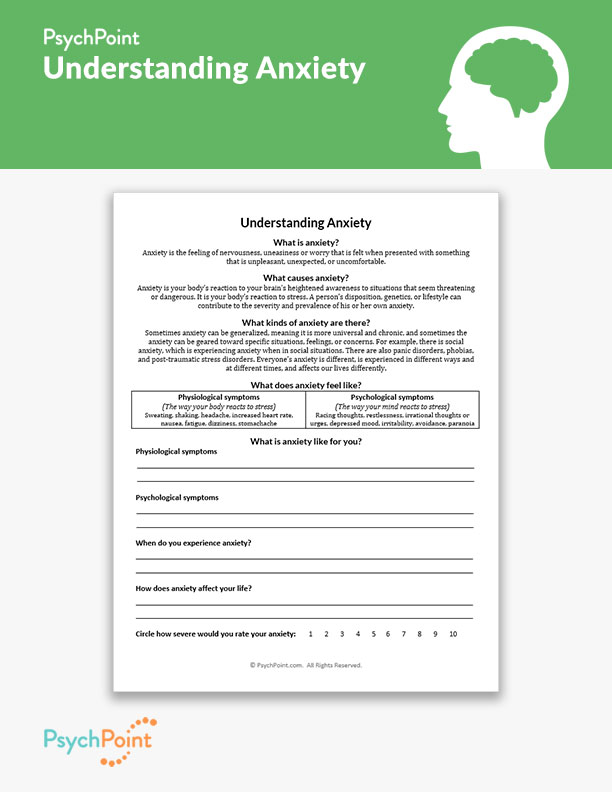 It is important for a client to understand what anxiety is and how it affects their life. Often people do not fully understand what anxiety is or how it affects them.
Sometimes people do not even realize that they have anxiety until they speak about their symptoms with a professional. That's why it is important for the client to be well educated on what anxiety is and how it affects people.
About This Worksheet
People do not usually realize how strongly they are affected by their anxiety until they are given the task to reflect on the questions provided in this worksheet.
This is the Understanding Anxiety worksheet. This worksheet is designed to outline what it is to have anxiety. It gives the client a guide to understanding their own anxiety and how they are affected by it. It is designed to be an informative and reflective exercise. The client will learn what it really means to have anxiety, and will also make connections between what they feel and experience and how it is related to how they function in their day-to-day lives.
Instructions
The Understanding Anxiety worksheet is best administered by first reviewing the educational information and answering any questions the client(s) may have about the content. The client is asked to take time to reflect on the information and how it resonates with them and their own lives. The client is also asked to list their psychological symptoms and physiological symptoms. The worksheet ends with the following 3 questions:
When do you experience anxiety?
How does anxiety affect your life?
Please circle how severe you would rate your anxiety
This worksheet is great for an individual or group setting that is geared toward understanding anxiety. Provided on this worksheet is a brief overview of what anxiety is, followed by reflection questions.
More Stress Management Worksheets