Thank You Worksheet
Worksheet published on June 26th, 2018
Worksheet updated on June 24th, 2019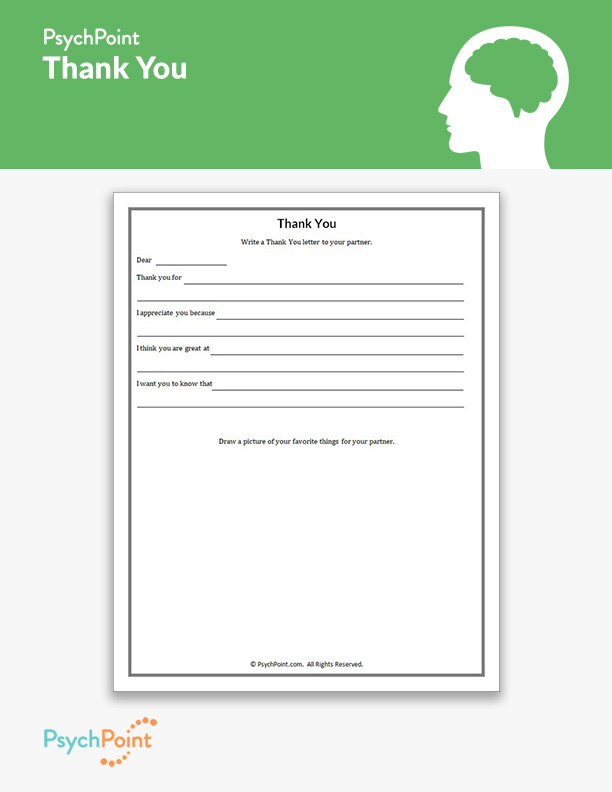 When working with kids and adolescents, especially those who have behavioral problems, it can be a challenge to teach empathy and healthy socialization skills. Being able to express gratitude and appreciation for others helps a child relate to children and how to identify positive qualities within themselves.
When a child is able to express appreciation, he is able to learn how to relate to others and build social skills for healthy relationships.
About This Worksheet
This is the Thank You worksheet. On this worksheet, a child learns how to express appreciation for his or her peers.
By learning how to express appreciation and acknowledgement for positive qualities in others, the child learns how to empathize and socialize. This worksheet begins the process of learning how to express appreciation for others by guiding the child through how to begin expressing positivity to his or her peers.
Instructions
This worksheet is intended for children up to 8 years old. Have each child pair up with a partner that he or she does not typically socialize with in their peer group. Instruct each child to complete each sentence to express appreciation toward their partner:
"Thank you for…"
"I appreciate you because…"
"I think you are great at…"
"I want you to know that…"
Then, instruct the children a picture of their favorite things to share with their partner.
After each child has finished the exercise, have them exchange their sentences and drawings with their partner.
More Therapy Worksheets