Setting Goals To Combat Depression Worksheet
Worksheet updated on March 29th, 2018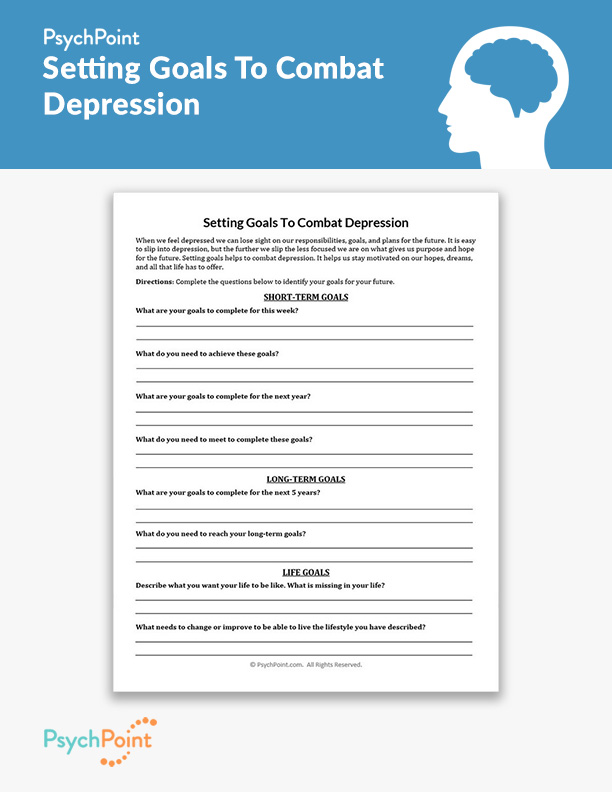 Often those with depression lose sight on what is important to them. Depression is mentally, emotionally, and physically debilitating and when a patient is depressed and does not understand what they can do to manage the depression the patient will feel hopeless about life and the future. It is important to encourage patients to find strength within themselves and remind them that their depression does not define them.
About This Worksheet
This worksheet is focused on goal setting to increase motivation to keep up with day-to-day responsibilities and increase hope for the future. The worksheet is broken down into short-term, long-term, and life goals and has the patient outline the objectives needed to achieve those goals. It is designed to have the patient remember that they do want and can achieve more for their lives than to be consumed by their depressed mood and to find strength and motivation within themselves to strive for their future.
Instructions
The patient is asked questions about their short-term, long-term and life goals. For the short-term and long-term goals the patient is asked about the objectives needed to achieve the goals- objectives is defined on the worksheet and should be explained to the patient before beginning the worksheet. The last set of questions is in regard to the patient's long-term goals and what is needed to achieve the life desired.
Related PsychPoint Goal Setting Worksheets