Cognitive Distortions Worksheet
Worksheet updated on July 9th, 2018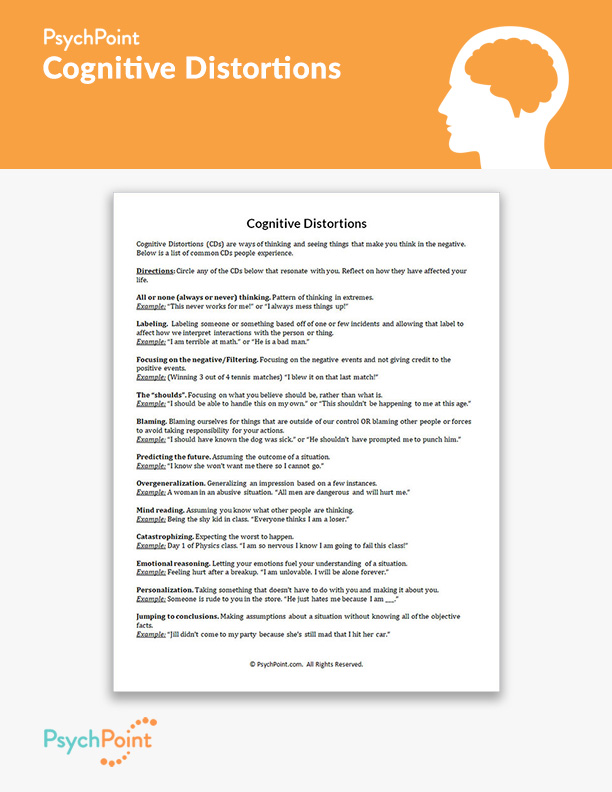 Cognitive distortions, or Automatic Negative Thoughts (ANTs) are important for patients to understand when they are learning to challenge their thoughts and behavior. ANTs are patterns in thinking that typically make someone think in the negative and have negative expectations. This can be detrimental to the patient for many reasons, the biggest being it holds the patient back from growing mentally and emotionally.
About This Worksheet
The goal with this exercise is to bring to light the ANTs the patient experiences. Everyone experiences ANTs and this worksheet will help the patient understand how it holds them back from being happier or more productive.
On this worksheet there is a list of common ANTs people experience. The patient is asked to review 12 ANTs and choose any that resonate with them. He or she is then asked how the ANT affects his or her life and how he/she intend to begin challenging them in therapy.
Instructions
The therapist should go through each of the ANTs on this worksheet with the patient and provide examples and explanations for each concept.
This worksheet is dense with information so it may be beneficial for the therapist to first highlight the patterns he has seen in the patient and review them with the patient. This is in effort to not overwhelm the patient. At the end of the list is a reflection question that the patient may complete on his or her own.
Related PsychPoint Psychoeducation Worksheets